Creating Content Can Be Hard
There never seems to be enough time in the week to get that blog written. Let alone edited, perfected and published.
But the thing is, if you aren't consistently getting content out in the world, you could be leaving sales on the table.
AND, by having a blog on hand every month, you have a cornerstone piece that you can repurpose for all your other marketing channels. That means no more worrying about what to post on social media or send to your newsletter subscribers.
It is my mission to help busy business owners get their content out into the world to attract your dream clients, prove your expertise, make your marketing easier and to grow your business.
Which is why I am here to help you with your blogging. Let me do it for you, or you can do it with me!
If you are serious about growing your brand and your business then you know you can't do everything by yourself. Choosing to outsource your written content will save you time, build consistency, and give you ready access to blogs, articles and case studies, as well as social and newsletter content that generates trust in your business.
You know that blogging will help your business. But, what if you don't do it right? You want to get your content out there and reap the benefits of blogging… but something is holding you back. The good news is, that you don't have to worry about that any more. Let me write them for you, and you'll never have to angst over a blog post again! 
Case Studies are an incredibly powerful form of marketing. After all, nothing has more impact than the glowing reviews of your clients. But, it can be so hard to write about your own business. So don't! Let me write glowing reviews for you. And, because content is all about delivering value, I'll weave some great audience takeaways in there too.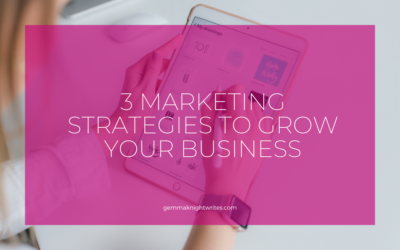 Nearly every business owner has the same goal… to grow their business. But, even with the best intentions, it can sometimes feel like your progress is stalling.  Luckily, it is possible to reignite your progress. Implementing the right marketing strategies can have a...
read more
Receiving the blogs you do every week is like a little fairy godmother landing in my inbox… it's just one thing that I know is going to be done for my business while I worry about everyone else's. You are an absolute Godsend 🙂 My heart does a little dance each time I read what you've written and am proud to send it out to the world. So thank you, thank you, thank you!
Candice
I had a bit of a block and Gemma came in and saved the day! Thanks so much Gemma for helping me with my latest blog series… you really did nail it with your style of writing and gave me exactly what I needed and saved me days of time.
Shontelle
The number of people unsubscribing from my email database has considerably gone down since I have been sharing your blog articles as the main reason for my email. I really think the approach to less promotional sales emails and more focus on new content is adding much greater value to my subscribers and they are sticking around for more!
Wendy